公園のホームレス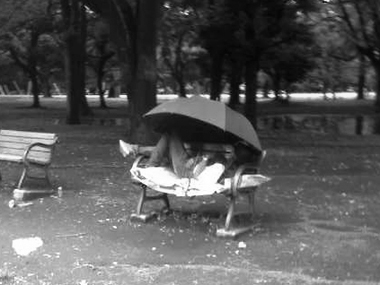 毎朝通る公園にはかつて250人のホームレスが暮らしていた。現在はブルーテントが25軒、その他野外キャンプが30軒ほどあるだけだ。雨なのでこのおじさんは傘をさしながらベンチで寝ている。ちなみに世界中には3億人ぐらいがこうして暮らしているらしい。
There used be 250 homeless lived in this park, but now only 30 are still there.This old man is sleeping with his umbrella opened. By the way, about three hundred million homeless are living like this in the world.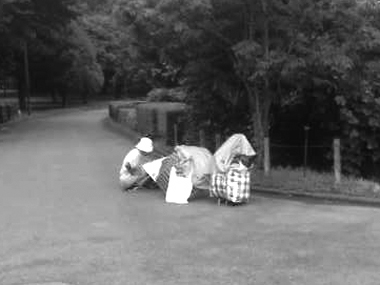 自分の財産を全て3つのバッグにつめて暮らしている人。この方は新聞で参議院選挙の結果を詳しく読んでいた。こうして選挙権を持ちながらも選挙にいかないであろう人でも社会には興味を持っている。こういう人にこそエネルギー問題や年金問題を聞いたらよい。
This picture describes a person who put everything he has into just three bags.What impressed me the most was that he was reading on the results of an Upper House election.A person like him, who did not go to the election but has the rights to vote, is still interested in what is happening in the world.It might be good to ask him about a energy and a pension problem.